Andrea Dovizioso has named ex-Honda team-mate Casey Stoner as the "most talented by far" rival he faced in MotoGP.
Fifteen-time MotoGP race winner Dovizioso will take a sabbatical from MotoGP in 2021 after quitting Ducati, with whom he had raced with since 2013.
Dovizioso partnered double MotoGP world champion Stoner at the works Honda squad in 2011 as part of a three-rider team, which also features Dani Pedrosa, with the Australian winning 10 races on his way to his second world title.
When MotoGP moved to stop three-rider teams from 2012, Dovizioso departed for Tech3 before stepping over to Ducati.
Speaking to Spain's DAZN late last year, Dovizioso revealed the attributes which made Stoner the toughest rival he's faced in MotoGP.
"He was the most talented by far," Dovizioso said of Stoner.
"But beyond the talent, there was how he managed to squeeze it. You can't say about Valentino [Rossi] that he's not talented, but he has a method, and he is achieving results.
"On the other hand, Casey [from] the first round [straight away] bam!
"And that was the worst [thing] for his rivals. It beat them up. His whole career, he did it like that; he was very good at it.
"So, in addition to that talent, it was how he used it."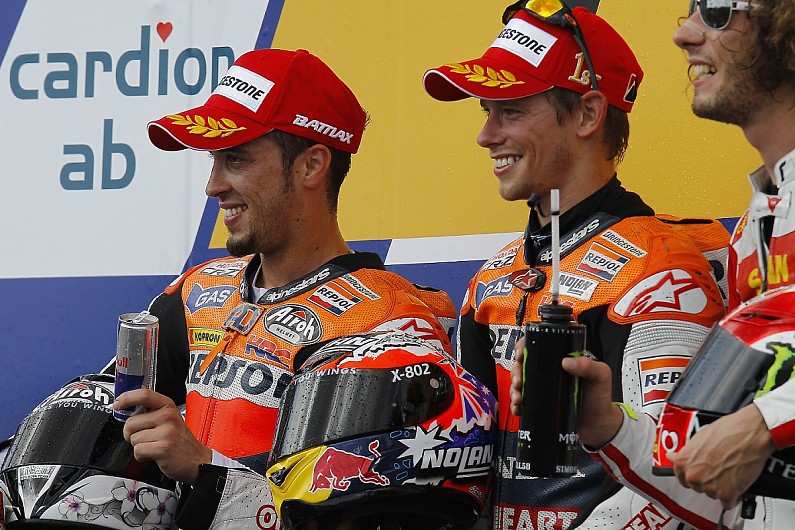 Dovizioso insists it "would not be fair" for him to single out a rider who has had an impression on him more than another, and says "they've all been very important" for him to learn from.
The Italian also gave his opinion on the comparison between Stoner and Marc Marquez, saying: "It's difficult to say that there is a rider with more talent than Marc.
"Everything that he has achieved has been in a way that on this basis it would lead me to say that Casey had a little more talent.
"But it's very difficult for me to say it that way, honestly.
"For different reasons, he lives life differently from Casey. He has not had those misunderstandings or situations in which Casey was not comfortable and said 'enough'.
"At the environmental level, everything has been much easier, relaxed, calm [for Marquez]. And it is the reason why he has won so many championships and will have a very long career."
Stoner retired from MotoGP at the end of 2012 aged just 27 having grown weary of the media demands placed on him and unhappy at the direction the championship was going in at the time.
Marquez is currently sidelined through an arm injury which ruled him out of the 2020 season, and which could keep him benched for the first part of the 2021 campaign after undergoing a third operation in December.
Dovizioso's decision to sever all ties to MotoGP for 2021 does leave him a free agent for Honda should it need someone to stand in for Marquez again at the start of this season.