Toyota's Nasser Al-Attiyah says the 2021 Dakar Rally is one "where we need to attack from day one" due to the "open" nature of the battle for overall victory.
First in the prologue on Saturday, Al-Attiyah scored guided his Toyota to victory on Monday's second stage on the 284-mile run from Bisha to Wadi Ad-Dawasir, with the Qatari driver moving into third overall on the classification.
X-raid Mini driver Stephan Peterhansel moved into the overall lead after Monday's second stage, opening an advantage of 6.37s over team-mate Carlos Sainz, who was third on the second stage.
Commenting after the first three days of action in Saudi Arabia, Al Attiyah said: "This is a Dakar where we need to attack from day one. There is no other choice.
"The race is very open. There are three drivers: myself, Carlos and Stephane who are fighting together and we cannot dare to slow down.
"It is also good to have Sebastien (Loeb) on the Dakar, but I think that the [Prodrive] project is quite young, so they will need some time."
Al-Attiyah knew his prologue victory would put him at a disadvantage on Sunday's opening disadvantage, but admits the time he actually lost was "more than expected" after suffering a puncture and a technical issue with his digital navigation system.
"We had decided to push in the prologue and we won," he said.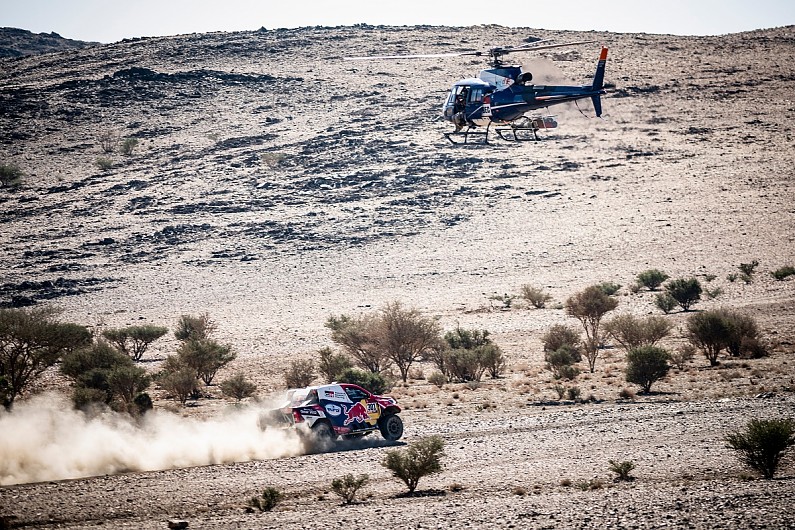 "We knew that opening the track on the first special stage we would have lost time but, in way, it was calculated.
"Unfortunately, we lost more than expected because we had one puncture and we had an issue with the digital roadbook.
"The iPad switched off and remained completely black for 1m30s. Matthieu (Baumel, the co-driver) did an excellent job as he had memorised the notes ahead of us, so we limited the damages.
"The issue was more that we were quite cautious in those 70km (43.5 miles) of rocks as I remembered very well all the punctures and the problems we had last year.
"In the first 150km of soft sand [on Stage 2], the buggies of Carlos (Sainz) and Stephane (Peterhansel) still have an advantage.
"But in the second part on fast path I could make the difference. I pushed and we recovered some time. The navigation was quite tricky, but we made only small mistakes.
"I'm happy because this was the target: closing the gap. Tomorrow [Tuesday] we will open the track again.
"We don't know what kind of terrain we will tackle. If there are not some many soft dunes, we can do a good stage and lose as less as possible."